REVISION IN PROGRESS

Famous Black Quotations

for the

Twenty-first Century
 
 

Of all the books I've published, FAMOUS BLACK QUOTATIONS has been my bestseller! It has been out of print for several years with only a few collector's copies available from me, as well as occasional used copies online. A new version of Famous Black Quotations was last published in 1995. A LOT HAS HAPPENED SINCE THEN, so I am updating it for publication in 2021.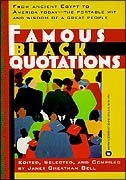 FROM ANCIENT EGYPT TO AMERICA TODAY THE PORTABLE WIT AND WISDOM OF A GREAT PEOPLE.
These are powerful words. Provocative words. Words that move your heart and words that move you to action. Over 300 quotations--the best known, plus many that have become better known--all by people of African descent. Now, these words can be with you always, in a single, easy-to-use volume. From Aesop to Angelou, from Marcus Garvey to Martin Luther King, from Nat Turner to Nelson Mandela; here are the words you want for effective speaking and inspired thinking and writing.
THEY LOVE FAMOUS BLACK QUOTATIONS AND YOU CAN QUOTE THEM!
"Everywhere I go all over this country, African American leaders are using
FAMOUS BLACK QUOTATIONS.
"
Jeremiah A. Wright Jr.
, Pastor Emeritus of Trinity United Church of Christ, Chicago
"I have been using my first copy of FAMOUS BLACK QUOTATIONS since it came out in 1986. It is a wonderful collection and an extremely useful resource."
Deborah Prothrow-Stith, M.D.
, author of
Deadly Consequences
"An invaluable reference....The book provides a saying of substance for a variety of occasions.
FAMOUS BLACK QUOTATIONS
is truly a godsend."
Judy Richardson
, series associate producer,
Eyes on the Prize
, and coproducer,
Malcolm X: Make It Plain
"
FAMOUS BLACK QUOTATIONS
is right here in my study; I use it all the time."
Dennis Kimbro, Ph.D.
, author of
Think and Grow Rich: A Black Choice.
CHAPTER TITLES


STRUGGLE


IDENTITY


WOMEN


MEN


LIVING IN AMERICA


PRIDE


SELF-RELIANCE


LOVE


CHALLENGE


MAKING DISCOVERIES